Boyle Investment's New CEO, Matt Hayden, Is a Company First, but Business Approach Is Same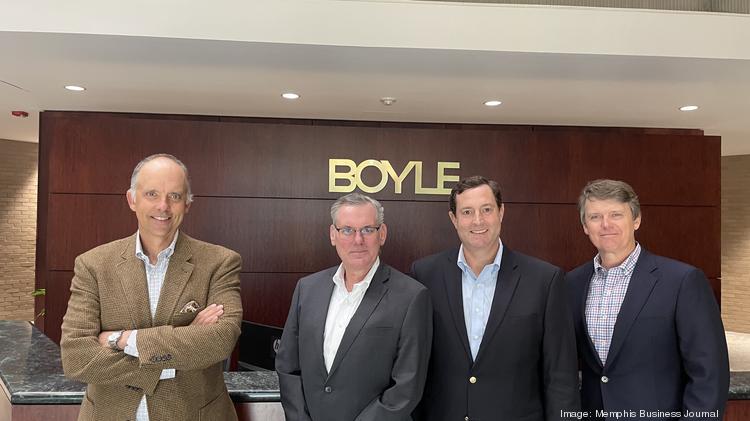 Memphis Business Journal
By Stephen MacLeod
Boyle Investment Co. has been the steady hand of the Memphis real estate market for nearly 90 years.
The company was founded in 1933 and has been led by members of the Boyle and Morgan family for the entirety of its existence. It is one of the largest private companies in the area and currently manages more than 8 million square feet of commercial space in the Memphis and Nashville metros.
Now the company is passing the president and CEO positions to someone outside the family for the first time in the history of Boyle: Matt Hayden was named to the roles in August 2022.
For most companies, such a transition would signal a radical change, a passing of the torch, or a new direction.
Yet, the board and even Hayden himself agree: Not much will change. Boyle wants its legacy of taking a stable approach to continue in the market.
MBJ talked to the principals at Boyle in September about moves and what they
mean.
Why the change?
Members of the Morgan and Boyle family were promoted to different roles on the board. The company's previous CEO, Paul Boyle, was promoted to chairman, and Henry Morgan Jr. and Bayard Morgan were named vice chairmen. Bayard Boyle Jr. and Henry Morgan Sr. became co-chairmen emeritus.
All three agreed that Hayden was a natural choice, to take over as president and CEO, both for his skills and his values being in line for what the company needs.
"What's not to like about Matt [Hayden]?" Bayard Morgan asked. "I guess you could say we've looked for this for years — this is not just out of my mouth but for other family members. My grandfather's, my uncle's, my father's mentality has been honesty, honor, integrity, courage, loyalty, and humility. And it's all right there [in Hayden]."
Hayden said he sees himself as fitting the Boyle brand of long-tenured executives: committed to the company — which he joined more than eight years ago — for the long-term. He served as treasurer and CFO in 2016, and added the role as co-chief operating officer earlier this year.
"I've been at the company for eight-and-a-half years, and I've learned a ton. I've gotten to know all these guys and their dads and their extended families. [Boyle] truly is a family business. Look at the tenure of the people who have been here. That's what attracted me to the company," Hayden said. "People love to work here, and it was something that I saw as a long-term career opportunity."
Hayden succeeded longtime CFO Charles Claiborne in 2016. Claiborne had worked at Boyle since 1983. Now, Hayden steps into the big seat at a time the entire industry is evolving.
The new CRE
Commercial real estate in Memphis is changing quickly. Office, which is the majority of Boyle's holdings, is in flux. Multifamily mixed-use is growing nationwide.
Yet Boyle isn't worried. The families have been in Memphis for lifetimes and believe the city will continue to truck along, even as excitement abounds.
"What's great about Memphis is that we don't peak and valley," Henry Morgan Jr., vice chair at Boyle said. "We're just very steady, and you know what you get: You get with what's in front of you. [While] Nashville is so exciting as a market, when you have this huge up, it's got the potential for pretty big downs at times."
It's not a new take for Boyle. Even as the Memphis metro is staring down half a dozen major projects, Boyle remains steady-as-she-goes.
"That's what our fathers have said as long as they've been alive," said Paul Boyle.
Yet the company is still growing, especially in Middle Tennessee. It now has 35 employees operating out of Nashville, where it oversees 2 million square feet of commercial space, with 5 million still in the pipeline.
Boyle is also looking to re-enter the multifamily market as growth continues.
"All around, multifamily has been a big area of growth, with the housing market and interest rates [where they are]. And there's a big demand for housing and good, quality multifamily assets," Hayden said. "We're seeing that in both [Memphis and Nashville] markets."
Even as Boyle undergoes the change of having its first non-family CEO, and even as Memphis transforms, Boyle is sticking to the same way of doing business.
"The main theme is that there's not any change," Hayden said. "Coming in, it's about maintaining the same culture and doing that with all these guys. And it's worked so well, for many years."