Boyle Preps 28-Building Development in Collierville
The Memphis Business Journal
By Jacob Steimer
Boyle Investment Co. is planning to build 256 rental units in Collierville, across 28 buildings and 15 acres.
The Watertower District will be located in the northwest quadrant of Schilling Farms, on part of the 50 acres the firm started grading last summer. Boyle VP Les Binkley expects construction to start in the second quarter of 2021.
The rentals would range from townhouses and duplexes to three-story buildings with elevators. And, the firm plans to eventually add more apartments on 12 adjacent acres. Along with the residential, the project will include "a modest amount of small-shop retail."
"The big advance for Collierville is having a community of this scale that is truly walkable. The extremely small blocks are key," Boyle EVP Russell Bloodworth said. "Our biggest challenge is including so many different types of homes and buildings. So much differentiation pushes up our construction costs, but in the long run, it will make a community that is truly sustainable."
Elevators aren't common in three-story apartment buildings, but Binkley said he felt they were important to differentiate the property as being high-end.
Binkley said the company hasn't paused the project during the pandemic because it still had plenty of design and approval work to do before starting construction. By the time the project leaves the ground, he thinks there's a "pretty solid chance" the country will be out of its current economic woes.
"We aren't a merchant builder trying to build something and sell it in a couple years. We're building this to hold it long term," Binkley said. "We're confident the project, long-term, will be a huge success."
The development is set to appear before Collierville's Planning Commission on Aug. 6. The town has been resistant to multifamily development in recent years, but Binkley said he's not worried because the site is already zoned to include apartments.
The project will be built around a central park. Binkley said that park and the community's walkability are its most important aspects.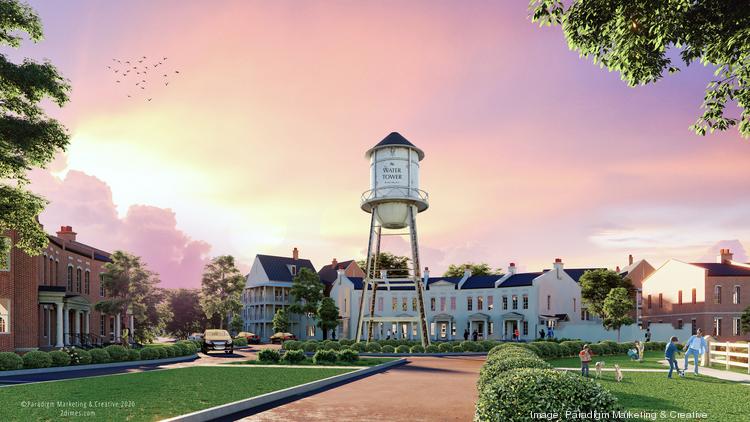 The apartments are located near the site Boyle sold IMC Cos. to build its new headquarters on. The 50 recently graded acres also include sites for other office buildings, retail and, potentially, a hotel, which Binkley said will be built "as the market dictates."
Clyde Patton and Bruce Taylor of Patton & Taylor Enterprises are co-developing the project with Boyle. Memphis-based LRK and Nashville-based Kiser + Vogrin Design are designing the project. Memphis-based Fisher Arnold is engineering it.